Guys, I'm not the girl that holds her camera phone in front of the mirror and takes a picture of herself when she looks good. Not to say there is anything wrong with those kind of girls, just saying I'm not one of them. I'm also not the girl who often has amazing hair days that I just have to brag about! My hair is pretty plain, pretty simple, and not washed very often. Let's just say ponytails are my game, friends.
Well, a miracle happened today and I feel like it's enough of a miracle to do something I've never done before. That is, take a picture of myself in the mirror of the bathroom at work.
Another reason it's embarrassing is because it shows off my old school, crappy-crap phone. Yep, I'm not one of the cool kids with an iphone. Did you just lose a little respect for me?

Okay, but here's the thing. This is my hair today.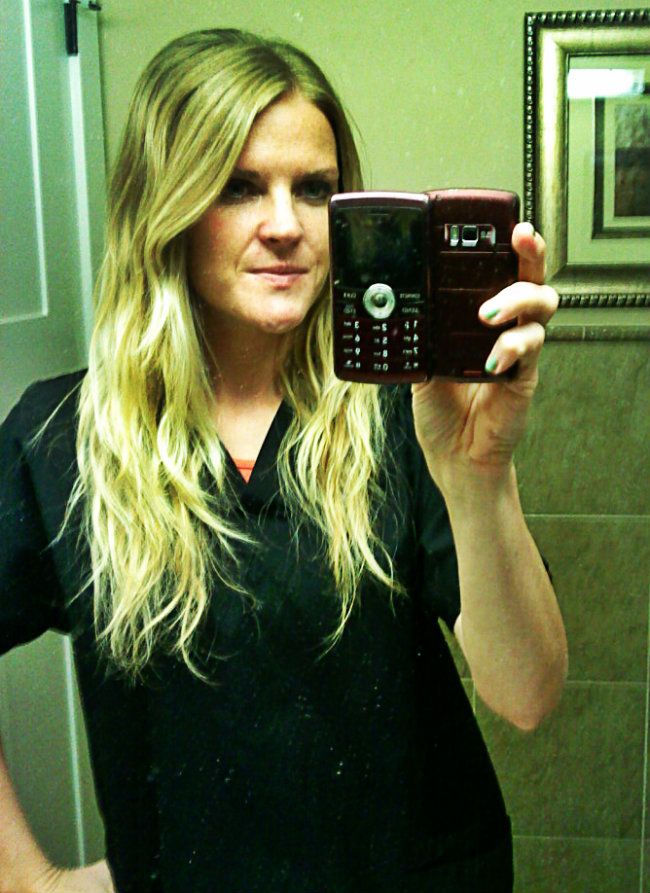 Let me explain the miracle, friends. This is my hair, without any hair product or any curling iron. Are we amazed yet? This is my hair after falling asleep right after washing it. Literally, this is what I woke up to. Do you see?? Maybe you, reading this, have perfect hair that is perfectly gorgeous and easily styled, so you don't see the beauty of it. But as for me, I have long, thick, unruly, frizzy, sort-of-wavy-but-mostly-straight-with-random-curls hair. It's a joke, I tell ya. So waking up to natural waves with no effort is LITERALLY a mircale. A miraculous miracle that I wish I could have everyday for the rest of my life!
It's a rare incident that deserves to be seen . Even if it causes some to lose respect for me.