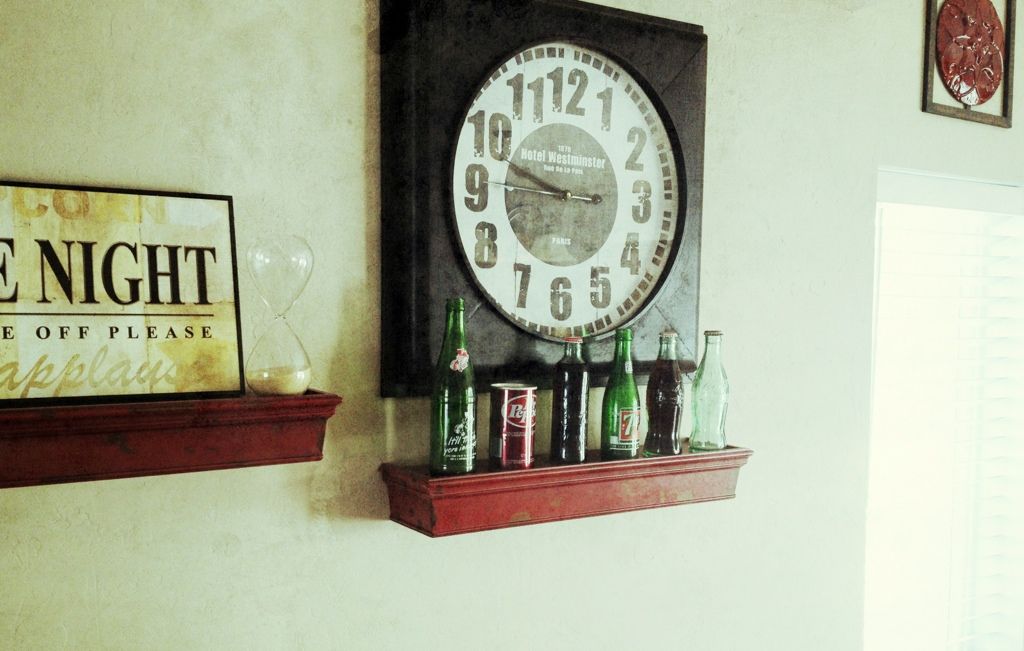 My favorite kind of home decor has two things: character and vintage. The kind of finds you pick up in thrift stores or inherit from loved ones. Clocks and old books and rugs that allow you to make up magnificent stories in your mind as to where they came from and what they have been through.
Add sentimental meaning to the decor and you've got the real deal. For instance, these vintage soda bottles that I recently decided should make an appearance in our living room. These old school lovelies belong to husband, who is quite the collector of neat things, if you know him at all. However small they may seem, I love the stories they hold:
1. This is what the mt dew bottles used to look like. "it'll tickle your innards!" Husband found this at his sweet grandma's house in star valley wyoming many years ago. I never met the woman, as she passed long before I ended up with Dan, so I love that we have something that ties us to her still.
2. I'm sure you all know how much I love my dr pepper... This vintage can is so neat. We have no idea when it's from, but husband found it years and years ago in the crawl space of an old home.
3. This vintage coca cola was given from a good friend who has worked in the coca cola business for years.
4. I love the look of this 7up bottle the most! This was the other bottle that husband found at his grandma's house those many years ago.
5. This story is my favorite. When husband was 10 years old a neighbor gave this coca cola to him for his birthday. Rather than drink it, he put a small sticker on the bottom where he wrote the year, 1985, and he put it away to save. The feat of a 10 year old having the self discipline to not drink a cola is amazing! It just shows my husband's personality and his love for collecting great things.
6. Another vintage coca cola bottle that husband saved from many years ago.
And that's our fun vintage soda bottle collection, now out on display for all to see. This guy also has stashed around the house and garage some vintage signs that are pretty neat as well. And we will continue to collect in the hopes that someday our home will be decorated as a museum of vintage finds! And we'll invite you all to take a tour! ;)
PS Happy MLK day! I hope you're all spending it in your pj's like me and mister J!