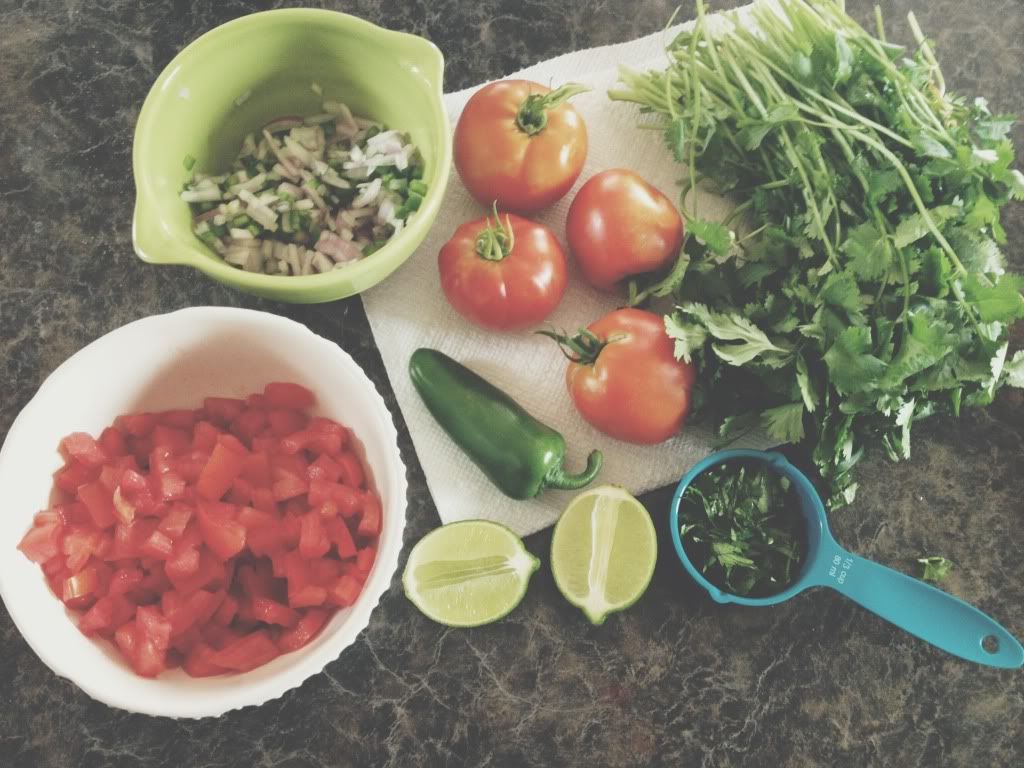 Chipotle Pico De Gallo Salsa Recipe
6 fresh tomatoes, diced (advice: cube into fourths to de-pulp and de-seed, then dice)
1/2 of a red onion, diced thinly
2 jalepenos, chopped finely (these gave it quite the kick! I'll go less jalepeno next time...)
1/3 cup chopped cilantro
1 lime
Salt & Pepper to taste
Combine all ingredients, squeeze fresh lime juice, toss. Chill for at least 1 hour to marinate.
•••
The truth is: I've never even eaten at a Chipotle before. (gasp!) But apparently it's da bomb, and
apparently
I'm missing out. This copy cat chipotle salsa recipe was on pinterest and, oh hey, we have tomatoes growing out of our
ears
so I decided, why not?!
It should be noted that the hubs and I ate the entire bowl in one sitting, so. That's some good stuff. My lips are still stinging from those peppers, but you should know that I'm nothing but a light weight when it comes to spicy foods. So that's not saying much!
And we really do have tomatoes growing out of our ears. I need to start canning some salsa soon, and would you know I've never canned anything in my life? I remember making and freezing applesauce with my mom as a child, but that's about the extent of any domestic fresh-fruits-and-veggies saving that I've ever done. So this is a whole new experience for me. I think everyone knows I'm not the "canning" kind of woman, but...I'm always willing to try new things?
Besides. I'd do anything to get my husband to eat tomatoes. Obviously, it's working! I deserve a reward for this.
And this is all to say: today has been a grand sunday. The epitome of what a day off should be. We slept in a little, but not too late. Pancakes for breakfast. Porch sitting in the shade, watching daddy trimming the willow trees. A trip to home depot for this and that, and some indoor plant window shopping that made me swoon. Lunch. Nap time. More tree trimming. Fresh salsa making. Fresh salsa eating. An evening walk. Playing with neighbors until dusk. A watermelon bubble bath, a clean boy that smells like lavender. And now a blog post, with a recipe to boot.
Do you see what I mean? I love Sundays.