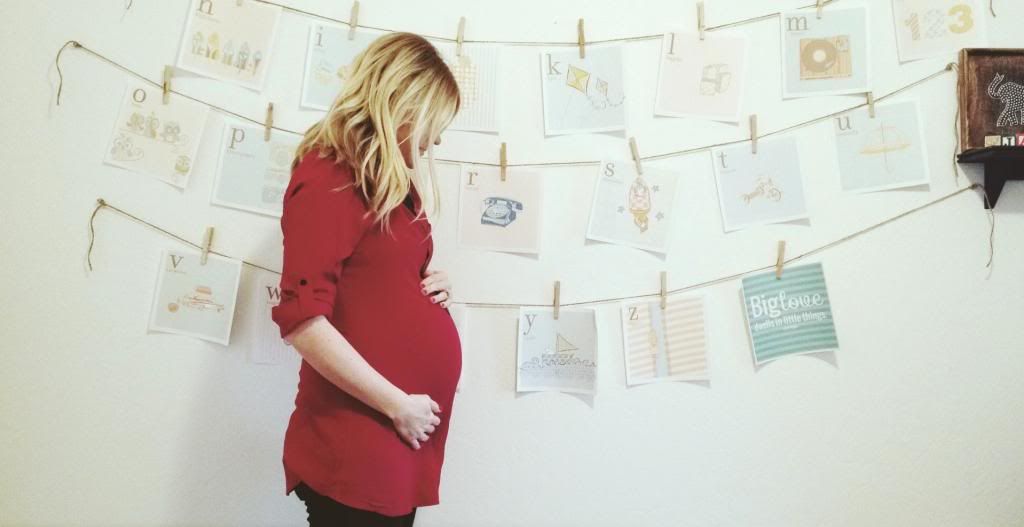 Last week I tearfully bid farewell to my second trimester. Oh how I loved the second trimester! It was so good to me. I got over my morning sickness and had the appetite of a grizzly bear. I felt pretty on the outside, not too large but definitely pregnant, with a little bit of that pregnancy glow. I had energy. Oh how I took for granted having energy! It was all so perfect and I wasn't ready to see it go.
But see it go, I did. And in it's place came the dreaded third trimester. Would you know, I didn't even realize I had hit the third trimester until this week when all of these new symptoms struck full force. I started to wonder to myself if I was possibly
dying,
but then I realized, oh! I'm that far along now! It's that time!
June is so close that it's almost giving me anxiety. And then I think, well thank the heavens for the third trimester! Thank the heavens that I feel so uncomfortable and big and tired, because by golly a few more weeks of this and you bet I'll be ready for a baby to arrive!
And in all honesty, the time has just flown by this pregnancy. I'm even baffled that I'm already in the third tri. I'm baffled that it's already april next week. I'm baffled that I have a three year old. It all goes by so fast! Slow down, life!
So to celebrate the third trimester, I thought I would do a cliché pregnancy question list. Mostly for me to remember but if you're interested too, well it's your lucky day!
Total weight gain:
gained 22 pounds so far. with J I was so self conscious during pregnancy, but this one I have actually loved getting fat. I love looking at my bare belly in the mirror, it's so perfect and round and there's a baby in there! a real, tiny, beautiful baby!
Maternity clothes:
No. I have a hard time justifying buying maternity clothes that I know I won't ever wear again. I still wear my jeans, unbuttoned of course. And for tops my favorite thing to do is browse clearance racks at my favorite stores, where I find discounted size large shirts. But this belly is large and in charge nowadays, so you'll probably see me solely in shorts and t-shirts from here on out.
Stretch marks:
No new stretch marks yet. With J they didn't show up until the week before I had him, so I do anticipate that I'll get some more.
Sleep:
Just this past week sleeping has been rough. I'm very restless due to leg cramps, hip aches, and lack of oxygen.
Miss anything:
Running! Oh how I miss running.
Movement:
YES! All day long. I have one active little boy in there.
Food cravings:
Don't even get me started. I have never in my life had such a raging appetite! My biggest cravings right now: seafood, stale marshmallows, and strawberries.
Anything making you queasy or sick:
Milk! I have pregnancy induced lactose intolerance this go-around.
Gender:
Boy!
Name: Beck Lewis.
Labor signs:
Nope, not yet. *knock on wood*
Belly button in or out:
It JUST popped out this week!
Wedding rings on or off:
On. I'm fortunate in that my hands and feet don't swell. I'm really just gaining all of the weight in my stomach. (and boobs, duh.)
Least favorite thing right now: Pregnancy face + Bending over.
Most favorite thing right now: How active he is! I love all of the movement.
Happy or moody most of the time:
Meh, it depends on who you ask? Moody. I think I'm more moody…